Meet the Headmaster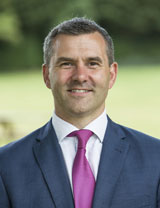 Barry joined Cranmore in 2010 following a successful career in professional sport. In his previous role, as Deputy Head of the school, he created an enriched education founded on academic excellence and participation. He has been responsible for developing a broad academic curriculum and cultivating a 'sport for all' approach. His vision is for pupils to grow in confidence, personality and character so that they thrive academically. As a school, Cranmore embraces challenge and moves with the times, whilst remaining true to core values.
Barry is delighted that Cranmore delivers an exceptional education for pupils to GCSE level, while preparing them fully to continue to A-level in the co-educational Sixth Form environment within our Trust.
In his previous career, Barry played at fly-half for Munster, Leinster, London Irish and Northampton Saints and was called up to the senior Ireland squad in 2001. He still holds the record for the most individual points scored in a Premiership Season.
Barry studied Business at university before moving to London and whilst playing professional rugby, he gained a BSc in Science at Brunel University. During his time at Cranmore, he completed a Master's Degree in Education, with a focus on Educational Leadership, at Buckingham University.
Barry and his wife Lisa, have three daughters who attend St Teresa's School. In his free time he enjoys music, reading and cross-country running.