Governors
Cranmore School is a part of Effingham Schools Trust which is a Company Limited by Guarantee in England No.4509623.
It is registered as a Charity No.1095103 whose Trustees form its Governing Body as follows:
Mr Mike Henderson Co-Chair
Michael Henderson was a Governor of St Teresa's School from 2003 to 2014 and a Governor of Cranmore School from 1994. He qualified in London as a Chartered Accountant in 1961 and joined a small industrial Group in 1965 later renamed Cookson Group PLC ( a FTSE 100 Company ) in 1984 . He was appointed to the Board in 1975, Managing Director and then Chief Executive from 1978 and Chairman and CEO in 1989. He is currently on the Board of a large international industrial Group headquartered in the US. He has lived in East Horsley since 1973 and is an active member of the Catholic Church in Effingham, a Council Member and on the Executive Committee of the Catholic Union of Great Britain and was appointed a Knight of the Holy Sepulchre of Jerusalem in 2005.
Mrs Annette Turner Co-Chair
Annette became a Governor in March 2014 and has been the Chair of Governors since September 2017. She graduated from Cambridge University having studied geography, is a member of the Chartered Institute of Personnel and Development and has a Master's Degree in Personnel Management from Kingston University. She lives in Fetcham and recently retired as Vice President, HR for a US multinational Engineering and Project Management company with a regional office in Leatherhead. Annette has over 25 years' experience in Human Resources, is an active member of the Catholic Church of Effingham and Fetcham where she is a catechist on the Confirmation Programme. She chairs the Academic Committee and is the lead Governor for Science and Careers Advice.
Mr Michael Agius
Michael Agius is a Chartered Engineer and Fellow of the Institution of Civil Engineers. He started working with Hertfordshire County Council in 1966, moving to Surrey in 1974, living first in Fetcham and then moving to Effingham in 1978. He worked with Leatherhead based civil engineering consultants Howard Humphreys/B&R/KBR, staying with them until he retired at the end of 2005. 20 years of this period was spent overseas, 15 years in Tanzania, 10 years as Managing Director of Howard Humphreys Tanzania and then 5 years in Greece, as one of three Project Managers on the construction of 680 km of motorway from the Adriatic to Turkey. He has been an active parishioner at Effingham and Fetcham since 1974. He was appointed a Governor at Cranmore in 2013, becoming Chairman of the F&GP Committee in 2016.
Mr Nick Clarke
Nick Clarke joined became a governor in January 2019. He started his career in academia as a mathematician specialising in research in the field of computational fluid dynamics. For the last 25 years he has been a quantitative analyst in the investment industry, applying science and technology to the art of generating good investment returns while controlling risk. He lives in Guildford with his wife Charlotte and their two boys who are attending Blossom House and Ripley Court, local private schools.
Mrs Anne Fort
(Nominated Safeguarding Governor at Cranmore)
Anne Fort joined the Governing Body as a member of the Academic, Pastoral and Staffing Committee on which she has held responsibilities as both the SEN Governor and Safeguarding Governor. She is a member of the Chartered Institute of Linguists and of the Institute of Translation and Interpreting. After working for a large multinational manufacturing company followed by a reinsurance company, she has run her own business as a freelance translator for the past 30 years. She is a practising Catholic and also an Official Prison Visitor.
Mrs Sally Hayes
(Chair Prep School Committee, Finance and General Purposes Committee, Pastoral Committee and nominated Safeguarding Governor)
Sally became a Governor in September 2014. She was a Lloyd's Broker for eighteen years before becoming a mother to twin daughters who were educated at St. Teresa's. Sally now works as a nursery assistant at a local school. She was Chair of the Friends of St. Teresa's for eight years and is enjoying continuing her happy association with the school. Sally is the Designated Governor for Child Protection.
Mrs Sally Hall
Sally Hall became a Governor in March 2020. She is a Geography graduate of the University of Sheffield, where she also gained her PGCE. Sally has taught in the independent sector for almost 20 years and is Deputy Head Pastoral and Designated Safeguarding Lead at St George's College. Sally is also part of Surrey's Schools and Education Safeguarding Forum. Sally lives in Weybridge and enjoys travel, cooking, jogging and watching most sports, especially her home team, Wolverhampton Wanderers.

Mr Damian Honey
Damian Honey became a Governor in February 2022. He was educated at Stonyhurst College in Lancashire, and is a Law Graduate of the University of Sheffield. After studying at Bar School in London and qualifying as a barrister, Damian then requalified as solicitor. Since 1996 Damian has worked for Holman Fenwick Willan LLP. In 2003 he became a partner of the firm. Since then he has served terms on the Management Board and Strategy Board of the firm, and is currently the Head of International Arbitration and the Global Key Client Partner. He is a Freeman of the City of London and a Liveryman of the Worshipful Company of Bowyers. Damian has lived in Great Bookham since 2002 and his two daughters attended St Teresa's.
Mr Iain Morgan
(Chair Finance and General Purposes Committee)
Iain became a governor in January 2017. He is a Chartered Accountant and a Chartered Engineer with an Engineering BA from Cambridge University. With over 30 years' experience in finance, he is working as a Finance Director at an internationally important Civil Engineering contractor where he also chairs a pension fund committee. Iain is married and lives in Bookham. His 3 daughters were all educated at St Teresa's.
Mr John Rourke
John Rourke began his academic career lecturing in the University of Wales. He subsequently moved into school teaching, becoming Head of Gunnersbury School in West London, and ultimately the founding Principal of a Catholic sixth form college, St Charles, also in London. Upon retirement in 2002 he co-founded and managed the educational consultancy ALPS (A Level Performance System) for a further fourteen years. He has served as Governor at several educational institutions, including being Chairman of a University College, an Academy, and St. George's College Weybridge. He has also served on local and national educational bodies, and on the educational boards of two dioceses. He was appointed CBE (New Year Honours 2000) and KSG (Papal Honours 2002). He lives in Weybridge, is active in parish life, and became a Governor of the Effingham Schools Trust in 2022.
Canon Paul Thompson (Academic Committee)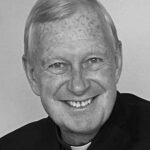 Canon Paul joined the Effingham Schools Trust in September 2022.
Educated at Cuddesdon Theological College and the University of Oxford. He was ordained to the priesthood in his home Diocese of Liverpool, initially spending three years as Curate in Kirkby new town, before moving to an ecumenical appointment in the world of education and industry in Knowsley.
Joining the British Army as Chaplain soon followed, with several tours of duty in teaching/training establishments. During that period, completing two tours in Northern Ireland, and further operational tours in Bosnia and Kosovo.
In 2001 Paul was appointed Senior Chaplain at Epsom College, a co-ed HMC boarding school. This role involved total involvement in the school. Teaching 'A' level and GCSE RS, Philosophy, Ethics and New Testament. Sports coach in rugby, hockey, cricket and soccer, and of course liturgical oversight in the daily worship of the College Chapel.
For the last three academic years he has been working part time at St Teresa's, teaching various year groups and assisting the work of the chaplain.
He is an Hon. Canon at Guildford Cathedral, and firmly believes it is a privilege, to be called to work with the pupils and staff committed to our care and oversight in the field of education. Although now living in North Norfolk, Canon Paul hopes to play his full part in the trust and prays that this will bear fruit that will endure.
Mrs Maureen Wilkinson (nee Murtagh)
Maureen is a partner at DMH Stallard LLP and leads the real estate residential team in their Guildford office, having been a partner at AWB Partnership where she qualified as a solicitor in 1989.
She lives in West Clandon with her husband and (periodically!) their two sons, and as a former pupil of St Teresa's together with her sisters, is very interested in the development of the equestrian centre having represented the school nationally some years ago!
Clerk to the Governors: Mrs Claire Minikin (Director of Finance)
The Chair of Governors can be contacted at the school via the Clerk to the Governors, Mrs Claire Minikin (Director of Finance).
Letters should be addressed to:
The Chair of Governors
c/o Mrs Claire Minikin
St Teresa's
Effingham
Surrey
RH5 6ST
UK
Emails should be addressed to: c.minikin@effinghamschools.org